In this episode of Fulbright Forward, Kelli Swazey, D&I Liaison for Fulbright Programs in East Asia and the Pacific, talks story with grantees who are shaping the future of Fulbright by pushing the program to expand its engagement with issues of representation, inclusion, equity and justice as a core part of the Fulbright experience.
The guests on this episode are members of the Taiwan DEI Committees, a self-organized group of English Teaching Assistants, or "ETAs" at the Taiwan Fulbright Program. In the first half of this episode, Lily Tang & Samantha Tran from the Empowerment Committee, and Jaime Ragos from the Education Committee discuss what drew to them to the Fulbright program, and how their personal stories connect to the issues they have engaged with through their work with the DEI Committees during their Fulbright grants in Taiwan. The second half of the episode features Carlo Juntilla and Ayana Harscoet from the Empowerment Committee, and Jocelyn Chi from the Education Committee, who share their paths to Fulbright, and their reflections on why the activism and advocacy work they've undertaken with the DEI committees has been essential not only to their experiences as educators, but also has allowed them to reflect on their own identities and expand the relationships they made in their communities and cohorts during their grant periods.
Episode Links and Resources
Taiwan DEI Committees Linktree
Taiwan DEI Committees Instagram
Guest Bios
Lily Tang (she/her) is a 2021-2022 Fulbright Taiwan English Teaching Assistant in Yilan County, which is on the traditional land of the Taiya people. Currently, Lily is embarking on a year of Chinese language study through the Huayu Enrichment Scholarship. Lily can be reached on Instagram or TikTok @lilytvng.
Samantha Tran (she/her) Samantha Tran (she/her) is a first-generation Vietnamese-American. She completed her 2021-2022 Fulbright Taiwan ETA grant year in Taitung, Taiwan, and is currently fulfilling her Foundation of Scholarly Exchange ETF grant in New Taipei City.
Jaime Ragos (she/her) was a 2021-2022 ETA to Kaohsiung, Taiwan in the Dashu District. She was a co-chair of the education committee. Jaime can be reached at jaimeragos2015@gmail.com.
Carlo Juntilla (he/him) is an education policy fellow for the U.S. Senate and a former teacher. Prior to teaching in public schools in Taiwan with the Fulbright program, he was a Teach for America corps member in the Bay Area where he taught high school history and government. Currently, Carlo works on the education policy portfolio for Senator Elizabeth Warren, and lives in Washington, D.C., with his partner and their rescue dog Carlo.Juntilla1@gmail.com.
Jocelyn Chi (she/her) was a 2021-2022 Fulbright Taiwan ETA in Chiayi and the education co-chair. Currently, she is completing her second year in Chiayi under the English Teaching Flagship award. She can be reached at jocelync888@gmail.com.
Eps 23 – Organizing for DEI advocacy in Taiwan with Fulbright ETAs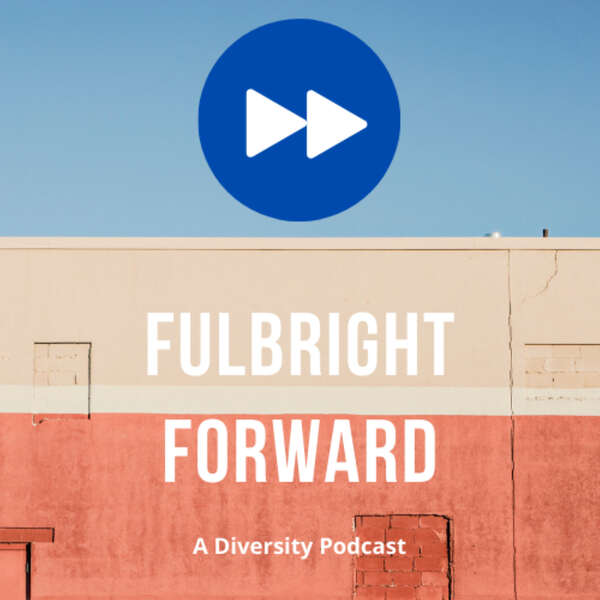 All content © 2023 Fulbright Forward – A Diversity Podcast .