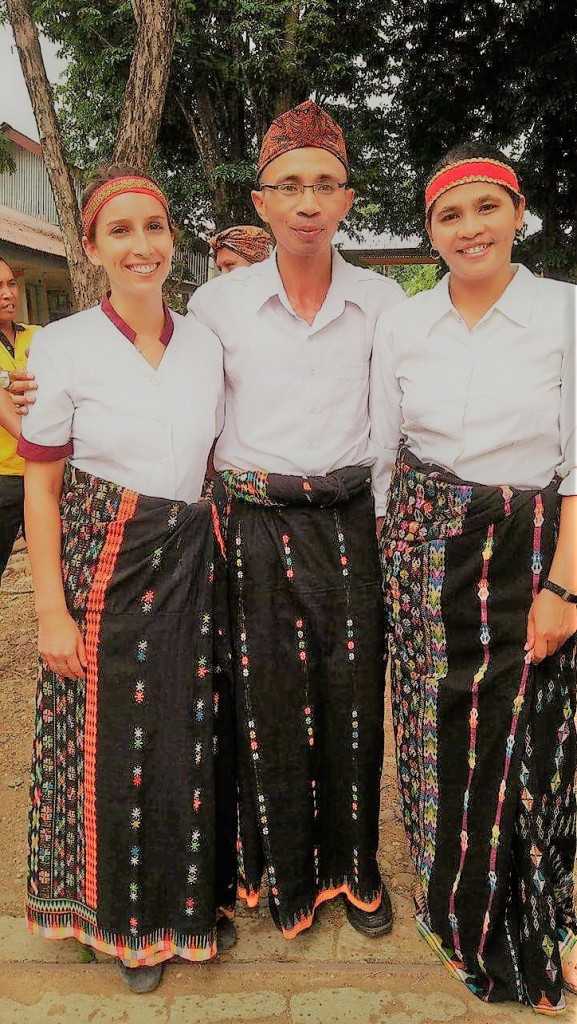 This month ETA Kyra Ghosh participated in a traditional welcoming ceremony with her school. Back in August, her school hosted a welcoming ceremony for her within minutes of her arrival to Labuan Bajo. It was her first impression of the school, Flores, and even one of her first impressions of Indonesia in general.
The ceremony consisted of all of the teachers dressing in traditional Manggarai clothing while swaying back and forth in a line to a Manggarai song being belted through a megaphone. After the singing, a live chicken and beer were handed to Kyra which officially secured her welcome. The whole ceremony was filmed, and Kyra remembers never feeling so overwhelmed yet also welcomed at the same time.
Just a few weeks ago, a woman's group from Jakarta came to Kyra's school to do a presentation about sex trafficking among children. Kyra was asked to participate in the welcoming ceremony for the organization, and spent an hour or two getting ready with the co-teachers as the women did her makeup and helped her wrap her songket or traditional Manggarai skirt. She then patiently waited the arrival of the organization with her co-teachers while they all took selfies to pass the time. Eventually, someone signaled the organization was arriving, and this time Kyra was on the other end of the camera. She smiled and did not pretend to know the lyrics of the song or what she was doing, but she followed the co-teachers' line of dancing while hundreds of people watched. After the ceremony ended, Kyra sat with a group of her students and talked with them for a long time practicing her Indonesian while they spoke English to her.
This day was particularly significant for Kyra because her second experience with a welcoming ceremony marked a point in time where she began to feel at home. The first time she merely felt "welcomed" while this time she felt true comfort. It was a surreal marker in time for it allowed her reflect on the time she had spent there and how far she had come.
Kyra Ghosh is currently teaching at SMAK St. Ignatius Loyola Labuan Bajo, East Nusa Tenggara
Last Updated: Dec 29, 2017 @ 11:23 am
We'd love to get your feedback
Read all articles from the November 2017 edition
To read more about ETA Program & Interested to be a host to an American Fulbright ETA?