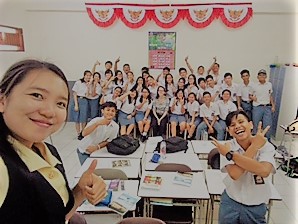 ETA Katia Oltmann's monthly highlight of November was finishing up classes for the semester and getting a chance to take a group picture with her students! The last lesson she taught for the year was especially important to her. It was a lesson about reading comprehension that incorporated a lot of concepts that students had learned throughout the semester.
The lesson started with students reading a short story by Oscar Wilde called "The Nightingale and the Rose." Then, in their English textbooks, the students looked at a list of themes featured in the story (like love or sorrow) and wrote down moments in the story that exemplified these themes. And before they presented their assignment in front of the class, students wrote what they thought the moral lesson of the story was. Overall, it was a great lesson about literary interpretation, and it was interesting to see students pick different examples for the same theme. When class was over, Katia took a picture with all her students to celebrate a semester well spent.
Katia Oltmann is currently teaching at SMA Eben Haezar Manado, North Sulawesi
Last Updated: Dec 29, 2017 @ 11:23 am
We'd love to get your feedback
Read all articles from the November 2017 edition
To read more about ETA Program & Interested to be a host to an American Fulbright ETA?