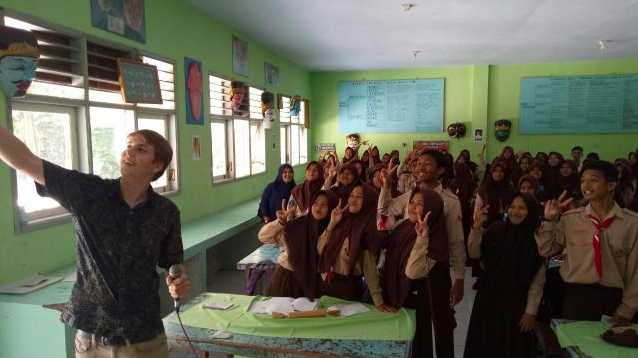 ETA Greg Sutton visited a local middle school on his free Saturday in nearby Kepanjen in order to give the students spirit, motivation, and fun games to a class of about 60 students. Greg interacted with the students for a bit more than two hours. He introduced games like running dictation and taught them several songs. At the end of class, Greg was presented a handmade wooden Javanese mask painted by the students.
Greg Sutton is currently teaching at SMK Muhammadiyah 7, Gondanglegi, Malang, East Java
Last Updated: Feb 5, 2018 @ 4:47 pm
We'd love to get your feedback
Read all articles from the October 2017 edition
To read more about ETA Program & Interested to be a host to an American Fulbright ETA?