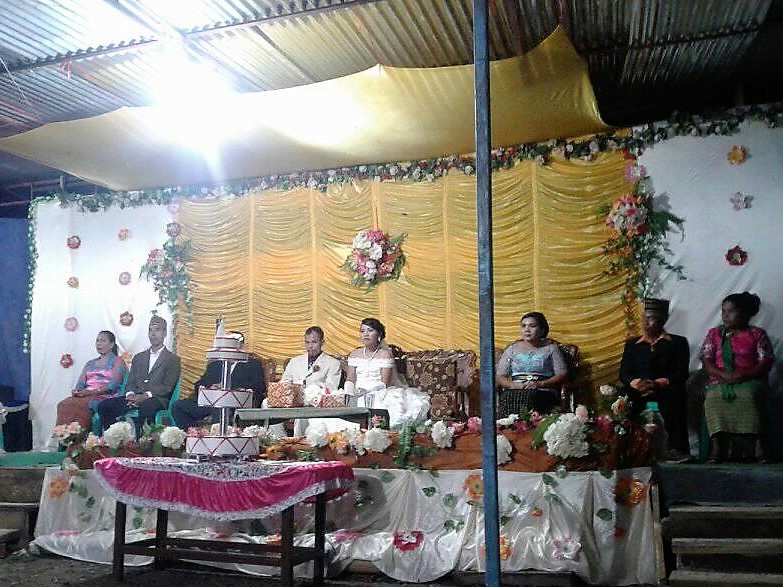 Over the past four months, ETA Arshelle Carter has attended countless wedding parties. On November 17, Arshelle traveled six hours with nine other teachers and the headmaster of SMK Stella Maris Labuan Bajo to attend the wedding party of a fellow teacher in Cibal. Fortunately, Arshelle had the luxury of riding with her headmaster in his car with two other teachers. The remaining teachers made the journey on their motorbikes. Although the journey along the windy roads were arduous, the teachers arrived in good spirits and were ready to celebrate.
Upon arrival, the headmaster gave a speech and Arshelle's counterpart was nominated by the group to sing a song for the lovely couple. In the midst of the wedding, the group was ushered to a nearby room for a brief adat ceremony. This tradition included the presentation of a live chicken and a local drink, tuak. After this ceremony, it was time to dance! Arshelle had waited all night to bust out her best Tobelo moves. Subsequently, a mildly embarrassing video of Arshelle dancing was recorded and sent to other teachers who weren't able to join the wedding party. By the end of the night, Arshelle was physically and mentally exhausted as a result of dancing the night away and testing her Indonesian and Manggarai skills. Although it saddens her that November marks the beginning of the rainy season which also means the end of the wedding season, she's grateful to have closed out the season with an awesome experience of bonding with her community of teachers.
Arshelle Carter is currently teaching at SMK Stella Maris, Labuan Bajo, East Nusa Tenggara
Last Updated: Feb 23, 2018 @ 3:20 pm
We'd love to get your feedback
Read all articles from the November 2017 edition
To read more about ETA Program & Interested to be a host to an American Fulbright ETA?